The foodies who select their alcoholic beverages based on convenience and flavor are attracted to canned cocktails. However, ready-to-drink cocktails are typically premium because their basis is made from actual spirits rather than the sugar or malt found in regular drinks like lemonade.
Canned cocktails appear to be the meeting point of two divergent trends. They are what you get when you mix the sophistication and booze knowledge of bottled cocktails with the spritz, mellow flavors and their convenient portability factor.
A foodies' dream of fun and convenience has been rekindled by canned ready-to-drink cocktails such as Crown Royal Peach tea, Dashfire Canned Cocktails, Post Meridiem Cocktails, etc. Canned cocktails are bringing the delight of convenience to your fingertips since there are so many of us searching at home for the high-quality experiences we have been missing.
Crown Royal Peach Tea: The Favorite Among Foodies
Crown Royal's ready-to-drink cocktails close the gap between whiskey enthusiasts and cocktail connoisseurs. You can have a premium experience without difficulty wherever you are while still enjoying all the outstanding smoothness and quality for which Crown Royal is renowned.
The rich, mouthwatering flavor of fresh Georgia peaches is combined with tea to create the famous taste of Crown Royal Peach Tea. Enjoying a tasty beverage at home has never been simpler, but you can do that now, thanks to Crown Royal's ready-to-drink drinks.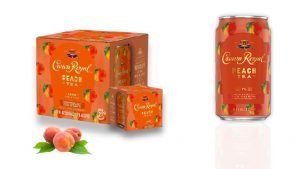 There is something for all the foodies of legal drinking age, no matter the occasion, with three traditional, signature Crown Royal servings to pick from, all giving the quality and flavor of a superb cocktail. The whisky beverages from Crown Royal, unlike most ready-to-drink items, are more akin to the kind of hard seltzer one may get at their favorite bar and are bottled for ease of enjoying at home.
According to Sophie Kelly, Senior Vice President of Whisk(e)y at Diageo North America, "As a leader in the whisky industry, Crown Royal continues to take pride in ensuring they are ahead of the trends and developing high-quality products that help feed the thirst to experiment of the whisky drinkers.
According to the industry monitor IWSR, Premixed cocktails saw a 50% increase in sales among foodies in the United States between 2019 and 2020. CNBC News reported that the canned cocktails are expected to generate $3 billion to $4 billion in income over the next few years, as per the Bank of America.
It is not surprising, however, that Crown Royal Peach Tea has become so popular among foodies. The following factors can explain its popularity.
●    An In-Trend Ready-to-Drink Cocktail
Crown Royal Peach Tea is the ideal ready-to-drink cocktail since it is convenient, has an undoubtedly excellent flavor, and is perfect for summertime gatherings.
Nicky Heckles, vice president of Crown Royal, says, "there is growing interest in ready-to-drink goods and a genuine desire from our foodies to experience the cocktails they have always liked at the bar.Whether you are unwinding in front of the TV or spending time in the backyard, Crown Royal ready-to-drink cocktails are excellent for individuals who want to celebrate with ease but not compromise on the premium whisky and flavors we all know and love."
●    Scrumptious taste of Crown Royal Peach Tea
With its delectable taste, Crown Royal Peach Tea is sure to impress everyone. Each drop of this canned cocktail boasts a taste of signature Crown Royal whisky, refreshing peaches, brewed tea, and undertones of other natural flavors that compliment the ravishingly juicy flavor of the Peach Tea.
●    An Excellent Choice for Any Occasion
With its unmistakable smoothness, knock-off 70-proof Crown Royal Tea is the perfect drink to pair with any food on all occasions. It is a tempting drink that is ideal for hanging time with your friends and family, whether you are soaking up the sun at a backyard BBQ or having a casual Sunday brunch at the fanciest rooftop patio in town.
●    Timeless and Eco-Friendly packaging
Crown Royal Peach Tea, with 7% Alcohol Vol, comes in a tin can with the company's distinctive box and bag. With a combination of peachy hues and peach icons, the packaging celebrates the fruit's vibrant nature and unmistakable flavor.
The exterior box has lovely metallic accents and opens like a genuine Crown Royal box. The majority of canned cocktails are packaged in thin cardboard boxes with adhered flaps.
The Crown Royal canned cocktails are packaged in a stylish box with an open top that can be closed again. Fancy! They also have a charming metallic detail, but the texture on the can is what really catches your attention. There are several raised detail patterns on each of the cans.
●    Diet Friendly
Not only that canned cocktail promotes a product and a flavor, but they are also marketing calorie counts because people are more sensitive to what they put in their bodies than ever before.
As the alcohol concentration is controlled in Crown Royal Peach Tea, the producers could cut back the sweeteners in the canned cocktails. This is a benefit for people plagued by health concerns; therefore, these premixed cocktails are the first choice for foodies who want to cut down their calories.
There are around 200 calories in a can of Crown Royal Peach Tea, as per nutritional information available on fitbit, and it has no gluten, food colorings and sweeteners. It includes organic spirits, fresh fruit (not juice), carbonated mineral water, and tea that has been prepared.
The cocktails provide the highest ABV (7%) and lowest-calorie canned cocktail options for authentic flavor and high-quality ingredients.
●    Economical and Accessible
The real secret to the success of these drinks may depend on their accessibility. When it comes to ready-to-drink cocktails, Crown Royal favors slim cans and a clean, uncomplicated design. They want to look different from the easy beers and drinks that foodies believe are unattractive and unhealthy while remaining just as easily accessible.
Crown Royal Peach Tea is very affordable, making it accessible to everyone. This canned cocktail is available nationwide and has a suggested retail price (SRP) of $3.99 for a single can and $14.99 for a 4-pack of a single flavor. You can easily enjoy delicious Crown Royal ready-to-drink cocktails, but please drink responsibly.