Vouge Nails: Ideas
Make your fingers look fancy with these Vouge nail designs. Check out our favourite nail art looks the next time you need a manicure and need some inspiration. From subtle ombre and modern takes on the French manicure to bold, artsy designs and gleaming metallic accents, there's something for everyone. Furthermore, many of them are simple to make at home. Make a statement with a manicure that features the iconic logos of your favourite luxury brands. Stick to a simple colour palette to keep it understated and elegant. Decorating the tips of a French manicure with branded decals is a great way to wear this look without going overboard.
As a result, in the limited space, short designer names and small logos, such as Chanel's 'CC' or Louis Vuitton's initials, work best. Gold and natural nail designs are an excellent way to participate in the nail art trend without appearing overly extravagant. You can paint gold designs on a neutral base if you have a steady hand or a skilled manicurist. Alternatively, decals are a quick and easy way to create beautiful patterns. Look for decals with Aztec-inspired designs, stars, hearts, or even flowers. This type of nail art can be surprisingly versatile and individualised. You can change the look of this art by using a pink, orange, or beige-based base coat, or a bright, soft, or rose gold accent.
Vouge Nails: Looks
If you want to join the nail art trend but aren't sure how to use a nail polish brush, this modern colour palette is ideal for you. It only takes a few different colours painted on different nails. It's simple, but it's stunning. Three colours are a good place to start. Choosing colours from the same side of the colour wheel will also keep your look from clashing. Take inspiration from Instagram sites like Awesome Color, which have ready-made modern colour palettes that look fantastic. You could also go to Coolors.co and create your own colour scheme to match with the polish colours you already have. With this fun nail art design, you can reinterpret the boho-tie-dye look. The beauty of this look is that it can be achieved with nearly any colour. You may also like art nail designs that have lines as they are also popular.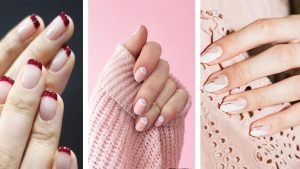 It's also simple to do at home. Simply apply a white base coat, then dot your desired colours onto the white while it's still wet. Place a sandwich bag over your nail and pat down to blend the colours. You can also add details by running a toothpick through the polish. Remember that you must work quickly before the polish dries and becomes tacky. When it's dry, apply a clear topcoat to ensure your lovely tie-dye look lasts. Use press-on nails as an alternative.
Magical
With these faces, you can incorporate some modern art into your nail design. This nail art's attention to detail and line work is simply outstanding. A good manicurist will be able to create this look for you with their skills and steady hand. If you don't have a manicurist or want to create this look at home, decals and nail wraps are a great alternative. It's daring and one-of-a-kind, with a striking combination of black and white.
Also Read: Long White Nails |  Vikram Singh Chauhan | Lovely Rose Necklace| Witch Gothic Nails